2008
This is history. We've decided,
after ten years of keeping these listings of Hell's activities current, that it's not "cost effective," as they say (half the links eventually die anyway). Hell's busier than ever, but the book publications and new audio releases, etc., are covered elsewhere here, and so from now on, we'll just be listing "what's new" (including public appearances) for the period each item is news, on the front page of the site...
---
Richard was invited to contribute to a group show entitled "The Beast in Me" at the Bowman Bloom gallery in the East Village, New York City.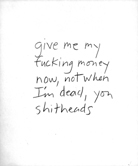 He has two drawings in the show and they're both pretty beastly. One comes from the late nineties and looks like an oversized notebook page (in graphite and gouache) and seems to be about an experience of bad sex, and the other is something created for the show. Hell explains that he sat down with a pencil and drawing pad and focused on what he had to say as a draftsman. The result is shown at left. Other artists in the show include Robert Hawkins, Kembra Pfahler, Walter Robinson, and Mette Madsen. It runs from 11 December 2008 until [new extended-show closing date:] Sunday, February 1, 2009, and the gallery, access below street level at at 95 East 7th St. (between First Ave. and Ave A) , is open Friday-Saturday-Sundays, 2:00 to 6:00 PM, or by appointment. For more information, contact Lisa Bowman at 203.952.9025 or Laura Bloom at 917.860.9869.


Hell published a fair amount of journalism and other nonfiction in 2008. He wrote two book reviews for the Sunday New York Times Book Review. The first, on April 27, was a rave notice of Aram Saroyan's Complete Minimal Poems. According to the book's publisher, Hell's review brought in so many orders that the book was immediately

pushed into a second printing! All right! You won't regret ordering it at the publisher's discount. (I promise you we know neither Saroyan nor the publisher. It's just a great book.) Hell's seventeen page essay pitting the Velvet Underground against the Rolling Stones came out in the anthology Rock and Roll Cage Match (Three Rivers Press), edited by Sean Manning. The book is a collection of essays comparing pairs of bands and naming the winners. Richard's essay is the winner of the collection according to [SPOILER ALERT: Don't read the first two of the following three reviews unless you want to know whom Richard dubs champion, which he doesn't reveal in the essay until its last line.] 1) the greatest 2) number 3) of reviewers, for instance. The October issue of Art in America had a slightly-dented-in-the-editing, but interesting, review by Hell of Everything Is Cinema: The Working Life of Jean-Luc Godard by Richard Brody. The second of this year's reviews by Hell for the Sunday NYT Book Review also appeared in October. It criticized Edmund White's short bio of Rimbaud. At the end of October, Richard contributed to a Village Voice cover story wherein "the axis of hip" (actual title of story; other contributors included Richard Belzer, Eileen Myles, Richard Foreman, and William Gibson) were asked to say a few words about what seemed most weird or surprising or notable about the presidential election campaign. In November, he had a piece about "Dawn in New York" at The Brooklyn Rail. In December, Taschen Books published its beautiful if elephantine and expensive ($1,000) new monograph on Christopher Wool. Six writers provided the texts for the 426-page 13" x 17.3 " clamshell-boxed tome. Richard's contribution is an essay on Wool's photographs.


The gallery opening and publication party for the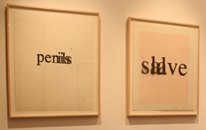 collaborative book, drawings, and screenprints Hell has produced with Christopher Wool took place at John McWhinnie @ Glenn Horowitz Gallery (50 1/2 East 64th Street) May 1st. Christopher and Richard were interviewed about the collaboration in the May issue of Interview magazine. Hell and Wool also appeared as a panel, moderated by poet and art critic Barry Schwabsky, to discuss the book, Psychopts, at New York's Strand bookstore on June 25. MediaBistro's "Unbeige" ran a story about the standing-room-only event.


In the spring, Flesh World published Richard's "Supplemental Notes" to his novel Godlike. The supplemental notes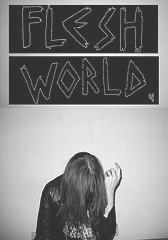 attribute and list references for most all the quotations and allusions in the novel, the sources of which aren't given in the book itself. There are generally one or two such allusions every five pages of the book or so. Some sources/methods for arriving at some of the poems in the novel are revealed too, etc. We admire Kier Cooke Sandvik, the British/Norwegian publisher, designer, editor of, and contributor of drawings and photos to, the magazine so much that we can't help repeating the info first given in Updates at Richard's prior Flesh appearance in 2007 -- namely that Kier has a set of graphic material from the run of the magazine posted at Flickr (be sure to check his other sets as well), and his blog is also exceptional. Kier and Richard are now working on a new edition of Richard's out-of-print The Voidoid, which was written when he was about the same age as Kier is now (21). Kier is doing drawings for the book, which is slated to be published by artist Josh Smith's new imprint 38th St. Publishers in mid-2009.


In early '08 London/Tokyo label Vinyl Japan released some Richard Hell & the Voidoids live recordings on a CD entitled Gone To Hell. They're audience tapes from shows at the Dominion Theatre in London in December 1978

and some songs from a January '77 show at Max's Kansas City in New York, and one from an October '77 gig at CBGB. It's a spotty selection with three or four interesting performances, including a very good early live "Another World" and an unusually Velvetsy early rendition of "Love Comes In Spurts." The package is excellent, it has to be said, with a handsome booklet that includes some rare pictures as well as bleak, if not bitter, confessional liner notes from Richard including such as:

I can't deny that hearing the material on the CD causes me some pain. It reminds me of my inadequacies and my problems. In many ways I didn't know what I was doing as a musician. I regarded myself as a force of being, like an ongoing translation or a lens, rather than a musician, and I thought it was the job of the technicians around me to provide the setting that would best serve me and present me to the public. At other times I just felt frustrated with my inability to be my ideal. It was all sordid. [...] For our stay in London, Jake got us a houseboat docked near Cheney Walk in London. It was December and it was freezing cold on the boat. On top of that, there had been a lot of snow upriver, and for a couple of days the river rose so high because of that that the wooden gangplank walkway between the boat and dock was submerged and we were stranded on the boat. Meanwhile I was dope sick and sleepless. I was vomiting and had terrible diarrhea. Quine was really hating me for the condition I was in, as well as for all the other indignities of touring, especially since, being that he was old and bald, no one on the British scene (or much of anyone anywhere else, but me) really appreciated him.

Is writing and publishing that self-destructive itself? Hard to say. (Also, Richard forgets that Lester Bangs as well as the No Wave New York musicians appreciated Quine.) (By the way, the "Jake" referred to is Jake Riviera, manager of Elvis Costello and Nick Lowe, and co-founder of Stiff Records, etc., and a great supporter and friend of Hell's over the years.) The release is a sharp package of materials though. [We'll have some of them, as well as the above-described Psychopts book up for sale at discounts here at the site soon.]


Richard returned to Spain to give an hour's performance on La Noche de los Libros (the Night of Books) in Madrid, April 23, at

the exquisite jewel box venue for writers, La Ateneo. He presented a screening of the new print of his 20 minute film, "Meet Theresa Stern" (1990), read poems and fiction, and sang two songs (accompanied by the young Madrid guitarist Javier Alonso of the band Novak). The notorious French novelist Michel Houellebecq also appeared that night, and Hell and Houellebecq were interviewed together by the national Spanish newspaper El Pais.

On the 29th of January Richard gave a talk in Malaga, Spain (Picasso's birthplace) on "Punk Culture." Here's a Spanish newspaper article (w/ photo) about it [in Google English]. For the masochistic die-hards (our favorites) out there, we've posted the full 21 pages of notes Richard made in preparation for the talk! [posted December 29, 2008]
---