you drunken me
Richard Hell collaborates with Jim Lambie
in Glasgow, Scotland, April 17-23, 2012
ANNOUNCEMENTS
Jim Lambie and Richard are collaborating on a show of artworks to be exhibited in Glasgow during the run of the Glasgow International Festival of Visual Art. The gallery--Arch Six, Eastvale Pl., Glasgow G3 8QG--will be open on the weekend that the festival kicks off, April 20-21, and by appointment thereafter (via byresroad@gmail.com). Below is the poster designed by Jim and Richard.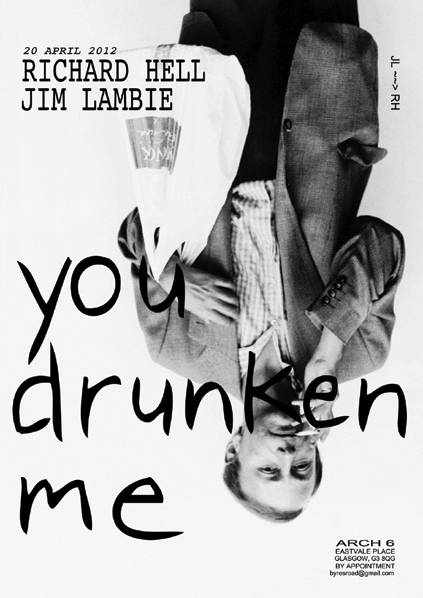 Then, the same evening that the artshow debuts, Friday, April 20, Richard will read at the opening night of Jim's new poetry club, Elephant Head, right down the street. Typically of great Glasgow-style cultural miscegenation, the slot prior to Richard at the club that night will be filled by local "supergroup" Correcto (Paul Thomson of Franz Ferdinand, drums ; Patrick Doyle of The Royal We, bass; Danny Saunders, vocals; and Richard Wright, guitar), the guitarist for which, R. Wright, won the 2009 Turner Prize, Great Britain's infamous, most highly prestigious award for new art. Our Jim Lambie, D.J. and former member of the Boy Hairdressers, which group evolved into Teenage Fanclub, was one of the five artists shortlisted for the Turner in 2005.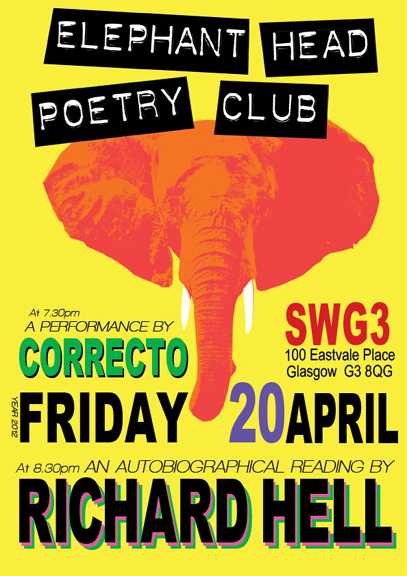 Three days later, on Monday, April 23, Richard will introduce for the Monorail Film Club at the Glasgow Film Theatre, a movie chosen by Jim, namely John Huston's rendition of Flannery O'Connor's first novel, Wise Blood, starring Brad Dourif. Details of the Hell introduced Wise Blood screening...