<![if !vml]>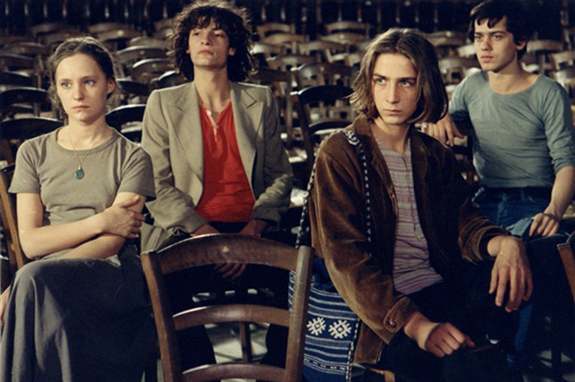 <![endif]>
BAMcinématek presents a week-long run of Bresson's The Devil, Probably

in a new 35mm print
"By far the most punk movie ever made."—Richard Hell
Richard Hell in person
Part of Bresson, a complete retrospective
The Wall Street Journal is the title sponsor for BAM Rose Cinemas and BAMcinématek.
Brooklyn, NY/March 30, 2012—"My sickness is that I see things clearly." From Friday, April 20 to Thursday, April 26, BAMcinématek presents a week-long run of Robert Bresson's contentious penultimate film, The Devil, Probably (1977), in a new 35mm print—showtimes below. The film screens as part of the first complete retrospective in over a decade of one of cinema's most uncompromising directors (see separate release). Writer, punk innovator, and movie devotee Richard Hell will appear in person on Thursday, April 26 to introduce the movie and then remain for a brief Q & A after the 6:50 PM screening. Jon Dierenger, proprietor of the invaluable Screen Slate website will moderate the Q & A.
A screed against modern culture, The Devil, Probably incited controversy for its portrayal of five teens who grow disillusioned with society and religion—one of whom, misanthropic student Charles (Antoine Monnier in his first and only role), has compulsive sex while plotting his suicide. Made when Bresson was nearly 80, this deeply personal manifesto is a chronicle of the modern world as a spiritual wasteland, with "the air of something out of the 1960s in that it recalls a time when dropping out was so fashionable it was virtually epidemic among the young bourgeoisie. But Bresson is not a filmmaker of fashion. Fashions rise and fall around him like tides around a continent" (Vincent Canby, The New York Times).
After premiering at the Berlin Film Festival in 1977, The Devil, Probably was lauded by critics despite its provocative themes—British film critic Derek Malcolm and German auteur Rainer Werner Fassbinder threatened to resign from the festival jury if their support for the film was not made public—and was crowned the winner of that year's Silver Bear award.
Richard Hell succumbed to Bresson in 1999 at the time of TIFF Cinematheque's (then the Cinematheque Ontario) first touring Bresson retrospective, and immediately found himself enraptured by the director's radically austere oeuvre. Hell has revisited it continually over the years, even programming it in his own "anti-social" film series in 2003. French auteur Olivier Assayas (the subject of a BAMcinématek retrospective in 2010) is also among Bresson's followers, and, as a featured extra in the crowd scene of The Devil, Probably, recalls disliking the film upon his first viewing:
"I saw The Devil, Probably when I was 17, which is the same age as the lead character; I can't say I liked it and remember thinking 'What is he talking about?' Then ten years later I realized that I had been exactly that character, it was my world, but I didn't grasp it at the time because it was too close to me."
The Devil, Probably also boasts an original screenplay by Bresson—his first based entirely on his own material—and a sparse orchestral score by Oscar-nominated composer Philippe Sarde (Polanski's Tess), who had previously collaborated with Bresson on Lancelot of the Lake.
"Even though Bresson has painted a dark picture of wasted youth and beauty, one comes out of the film with a sense of exultation. When a civilization can produce a work of art as perfectly achieved as this, it is hard to believe that there is no hope for it."—Richard Roud
"Objects, people, places—everything is seen with a clarity so fine that his images achieve something beyond realism, as if clarity so intense could distort truth, at least as we have come to accept it... No other director I can think of has come as close as Bresson to molding his players into what are, in effect, variations on a continuing personality, much the way a painter might."—Vincent Canby, The New York Times
"Bresson's splenetic 1977 drama puts the post-1968 world on trial and judges it unlivable. Both the world and Bresson's cinema are in disarray, and the signs of his inner conflict are deeply troubling and tremendously moving."—Richard Brody, The New Yorker

The Devil, Probably press screening Fri, Apr 6 at 12pm
Press screenings held at BAM Rose Cinemas (30 Lafayette Avenue, Brooklyn, NY).

To RSVP or for press information, please contact
Gabriele Caroti at 718.724.8024 / gcaroti@bam.org
Lisa Thomas at 718.724.8023 / lthomas@bam.org
The Devil, Probably screens Fri, Apr 20—Thu, Apr 26:
Fri, Apr 20—Sun, Apr 22, 2012 at 2, 4:30, 6:50, 9:15pm
Mon, Apr 23 & Wed, Apr 25, 2012 4:30, 6:50, 9:15pm
Tue, Apr 24, 2012 at 4:30, 9:30pm
Thu, Apr 26, 2012 at 4:30, 6:50*, 9:30pm
*Intro by and Q & A with Richard Hell
An Olive Films/Film Desk release | 1977 | 95 min | Color | 1.37:1

DOWNLOAD THE DEVIL, PROBABLY PRESS RELEASE

DOWNLOAD BRESSON PRESS RELEASE