(HEARTBREAKERS) '75 cont.
(pic: Roberta Bayley)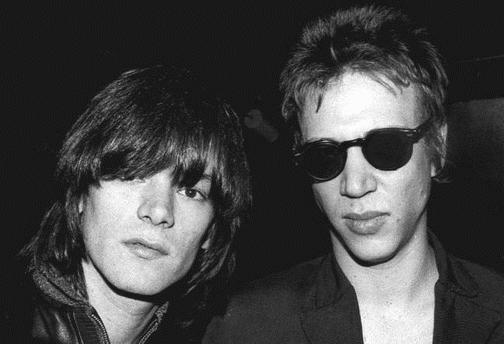 "It's hot as a bitch, I shoulda been rich, but I'm just lyin in a Chinese ditch."*
Richard has posted a few words in memory of Dee Dee at the site's Forum.
The year after the above picture of Dee Dee and Hell, Richard wrote about his friend's unsigned band for Hit Parader: "The Ramones Mean Business." Also on site's a
12/31/75 Ramones/Heartbreakers poster.

____________________________________________________
*"Chinese Rocks" by Dee Dee Ramone and Richard Hell (c) 1975, 2002,
Doraflo Music, Dilapidated Music/BMI
Contents of site © 1998-2012 by Richard Meyers & Roy Suggs. All rights reserved including right of reproduction in any form.