RICHARD HELL Bio Core, p.2
note: links illustrate bio with pics/text; graphics link too here



1975 Decision becomes easy when Verlaine refuses to play any of Hell's songs on Brian Eno produced six-song demo for Island Records. (Hell's songs--lyrics and lead vocals--for Television included "Excitement," "Eat the Light," "Love in Spurts," "Blank Gneration," "That's All I Know ((Right Now))," "Fuck Rock 'n' Roll," "High Heeled Wheels," and "Change Your Channel.") Hell leaves Television. That week Johnny Thunders calls Hell to say he and Jerry Nolan have left the Dolls and asks if Richard'd like to start a new band with them. "Yeah," and the Heartbreakers are born. Concept is same as with Tom in the original Television / Neon Boys: Hell and J.T.'ll have roughly equal number of songs, each singing the songs he writes. Doubt it if you will, but for about eight months this was the best band in the world. It might also have been Hell's happiest time in a group, and Sable was doing all she could to help. Drugs. Dee Dee Ramone, a running buddy of the time, brings Richard 3/4's of a song the Ramones won't play because it's about "Chinese Rocks," favored heroin type of the day. It lacks two verses, which Hell writes, and song becomes Heartbreakers' favorite.

1976 But as well as things are going, Richard's restless. He can't help feeling cramped to be playing songs about things like "Going Steady" and "Pirate Love," as good as they might sound. Johnny and Jerry aren't sympathetic to this point of view. Hell realizes he'll have to leave the group to find out what's possible. No hard feelings towards the Heartbreakers. The new group will be Richard's own. He asks Robert Quine, a bald 33 year old law-school graduate who hasn't played in a band since college, to be his guitarist, then recruits Marc Bell from Wayne County's group to play drums. They agree on Ivan Julian for the second

photo: Roberta Bayley



guitar after holding open auditions and the band, named Richard Hell and the Voidoids, immediately begins heavily rehearsing the three songs--"Blank Generation," "You Gotta Lose," and the new "(I Could Live With You) (In) Another World"--that Hell intends to record for the e.p. single Terry Ork wants to release. Hell insists the group wear identical black $50 corduroy workingman's suits (from Hudson's on 3rd Ave. and 13th St.) for their debut at CBGB's in November.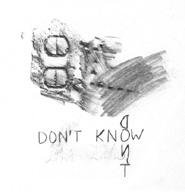 [To be continued...or in the meantime check Hell's publicity bio]