Rare Hell Lit
Hell Out-of-Print, Limited, Signed, etc....

Address any questions to orders followed by @ followed by richardhell.com.
To Rare Hell merchandise mail order form...


---

Go Now novel by Hell
(New York: Scribner, 1996) 5.75" x 8.75" 175 pp. hardbound 1st edition
signed by Hell $125.00



Go Now is a novel, set in 1980, about a burnt-out junkie punk named Billy Mud who thinks he's gotten a chance to renew his relationship with his French dream soul-mate Chrissa while also outdistancing his dope habit and proving he's good for something when a longtime benefactor/admirer of his, rock 'n' roll entrepreneur Jack, commissions him to drive a 1957 DeSoto Adventurer from California to New York with Chrissa along, the idea being that she'll take pictures--she's a photographer--and he'll take notes and they'll make a book out of the experience. Guess again, Billy. The hardcover is now out of print. It went into a second printing, but these are the first printing, signed by Richard on the title page. They're in mint, un-read, condition, with dust jackets same. You can check out reviews and excerpts. ISBN 0-684822-34-2


| | |
| --- | --- |
| ORDER Go Now hardcover [signed] via: | OR ORDER Go Now hardcover [signed] |
| | |
---
Hot and Cold "essays poems lyrics notebooks pictures fiction" by Hell
(New York: powerHouse, 2001) 6.25" x 10" 256 pp. hardbound 1st edition signed by Hell $29.95 (publication price, though book is out of print and available new only here at the site)



Hot and Cold was originally to be published by small press Vehicle Editions (Ancram, NY), which did bring out a 32 pp. "preview edition" in 1998 to coincide with Hell's art show at the Rupert Goldsworthy Gallery in New York, but when Vehicle ran out of money, the trendy artbook publisher powerHouse Books (website) took on the project. It's an arrangement of all Richard's best writing (and graphics) that had been previously unavailable in book form: nonfiction (essays), poetry (1969 to 2001), lyrics (to every song he wrote the words to that exists in a circulated recording up to 2001), notebooks (1988-98), drawings (and some photos), and fiction that is presented in such a way that it not only stands as interesting work, but serves as a kind of (sub-)cultural history of the era that punk triggered. Here's a page of excerpts from the book, as well as a listing of the entire contents of it, and a larger view of its black dust jacket. PLEASE NOTE: The publication price was $29.95 and signed copies at other online dealers are at least $50.00, but we're offering exclusively signed copies and adding protective mylar dust-jacket wrappers at this special author's website price. The book is the heaviest weight--nearly 2 lbs.--of any of our merchandise, and so can't be sent First Class, but only Priority Flat Rate, which for this is over $8. Nevertheless we're offering it Priority (to arrive in 2-3 days) for $8, and Media Mail for $5 (from two days to two weeks). ISBN 1-57687-082-0


| | |
| --- | --- |
| ORDER Hot and Cold MEDIA MAIL via: | OR ORDER Hot and Cold PRIORITY MAIL via: |
| | |
---
The Toilet Paper Columns 14 newsmonthly columns
(New York: CUZ Editions, 2007) 8.5" x 11" 31 pp. paperback 1st edition
edition limited to fifty signed by Hell [SOLD OUT]


The Toilet Paper Columns collects the fourteen columns Richard wrote for Noel Black's now-defunct Colorado Springs, CO alternative monthly. Noel's idea was to start a radically funny and anti-conservative free paper to be placed for the taking in local restrooms. Hence the title. Or maybe the title came first. Anyway he insisted against all argument on calling his publication that. It lasted for seventeen issues, Oct 2004-May 2006. It missed some months and Hell missed some issues. Some of the subjects Richard devotes columns to are: the matter of digestive processes (as suggested by the new monthly's name), the series of recent original-"punk" musicians' deaths (Robert Quine, three Ramones, Joe Strummer, etc.), Christo's Gates, Michael Jackson's trial, sex in art, and Christmas. The book is very prettily typeset, with covers printed in metallic gold ink, and bound with staples. You can see a larger image of the cover and read two columns.The entire edition is limited to 250 copies, fifty of which are signed and numbered by the author. ISBN-10: 0-9666328-8-5 ISBN-13: 978-0-9666328-8-0



ORDER TP Cols signed edn. via: N/A SOLD OUT
---
CBGB: Decades of Graffiti photo book with intro by Hell
(New York: Mark Batty Publisher, 2006) 9" x 7" 64 pp. paperback 1st edition
signed by Hell [SOLD OUT]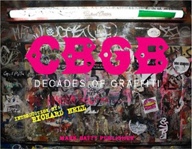 This book is a brilliant idea, nicely executed. We believe it to be the best chronicle, the best print evocation of CBGB's available. It's simply photographs of the empty interior of the club as it looked the summer before it closed, which is pretty much just the way it has looked since it became famous in the mid '70s. The photographs are by John Putnam, and there is a small amount of text by Christopher D. Salyers also scattered through the book. Hell supplied the 1,000 word intro. Here's a paragraph from it:
Above all, though, the effect of the surfaces of CBGB's dark, crazed insides is eerie, it's haunting. It's like a dead-quiet, chillingly colorful cemetary. Or autopsy: all of compacted history sliced open. It's not so much that the graffiti evokes the endless procession of individual kids who've attended the club, but that it evokes their absence, their faceless selves buried under the next pretty layer of pointless assertion. The walls are an onslaught of death and futility as much as they are of life and vitality. The kids believed themselves to be unique individuals; the walls they covered with that claim are the proof that it's a delusion. Or is this what we knew all along, and the walls are sites of reveling in it, reveling in undifferentiation? Because it does seem sweet and innocent and loveable too.

You can view some page samples from the book ISBN 0-9772827-5-9



ORDER CBGB [signed] via: via: N/A SOLD OUT
---
Rabbit Duck 13 collaborative poems by Richard Hell and David Shapiro
(Milwaukee: REPAIR, 2005) 6.25" x 9.25" 32 pp. 1st edition
hardbound edition of 26 copies (A-Z) signed by both authors [SOLD OUT]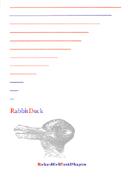 This first edition of the thirteen poem sequence David Shapiro and Hell perpetrated in 2003-2004 comprised 500 copies bound in paper, and forty-two bound in cloth. The cloth (hardcover) books are divided into a twenty-six-copy signed and lettered (A-Z) edition, and a sixteen-copy signed and numbered hors commerce (not for sale) edition. We have a total of fifteen copies of the lettered edition available. The book is a lovely object, printed entirely in letterpress (old-fashioned moveable type -- the tube amps of the printed word -- that's set in lines, inked, and then pressed into the paper, rather than pages reproduced photographically / electronically), on acid free paper, with Smyth-sewn binding. The dust jacket design and the one internal drawing are by Noel Black. The physical book is produced to the highest standards of craft, and not only looks gorgeous, but is as durable as a book can be.The cloth is black linen, the edition has added cream endpapers, and the dustjacket is 80 lb. Cougar, printed letterpress in three colors. It's a breathtaking object. Dustjacket protected in mylar wrapper.

David Shapiro, Richard's collaborator here, is, as the book's bio note states, "a poet and art critic. He was a professional violinist in his youth. His first book of poems, January (Holt, Rinehart and Winston, 1965), was published to lavish praise from such as John Ashbery, Kenneth Koch, Barbara Guest, and Jack Kerouac, when Shapiro was eighteen years old. Subsequent collections include Lateness, To an Idea, After a Lost Original, and A Burning Interior (all from The Overlook Press). He has written many books on art, including a pioneering study of Mondrian's flower paintings, and the first volume on Jasper Johns's drawings. He lives in Riverdale, NY and teaches at William Patterson College and the Cooper Union." The poems are thought-provoking, lyrical, funny, and crazy. You can see a page we've made displaying the cover enlarged, and sample poems.



ORDER Rabbit Duck via: N/A SOLD OUT
---
GENESIS : GRASP # 5/6 Hell edited art/lit zine
(NY: Genesis : Grasp Press, 1971) 5.5" x 8.5" 70 pp. softcover [SOLD OUT]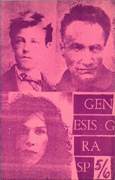 Genesis : Grasp #5/6 is described onsite here. It contains seven poems by Richard Meyers (Hell) including the cattle and pinheads opus also on site, as well as six wisecracking poems by Tom Miller (Verlaine), and lots of other juicy nightlight (such as art and writing by Steven Schomberg, whom we've also given a page). These are mint condition, as new, from Hell's archive and we don't have many.



ORDER G:G #5/6 via: N/A SOLD OUT
---
Disgusting drawings and writings by Hell, with unique endpapers by Josh Smith
(New York: 38th Street Publishers, 2010) 5.25" x 8.5" 22 pp. The signed edition: 26 lettered copies in slipcases, signed by Richard Hell and Josh Smith [SOLD OUT]



This is the second book of Richard's published by Todd Amicon's and painter Josh Smith's 38th Street Publishers, the first being 2009's Voidoid edition illustrated by Kier Cooke Sandvik. Disgusting is a select arrangement of writings and drawings by Hell made in the past seven or eight years. All the pieces are quite different from each other, ranging from a page of prose on self-disgust to a drawing of the view of the darkness beyond the refrigerator in Richard's apartment, to a poem about time that concludes "Poets are fools but I don't give a fuck / anymore. Life's only good when it's well written" (and three other recent poems, each in it's own form and style), to journal entries about the deaths of his friends Lizzy Mercier and Robert Quine (which happened to occur within two months of each other in 2004). Regardless of the variety, though, the book is fully integrated, a work of its own, much more than the sum of its parts. The pamphlets are saddle-stitched and the covers are made from the heavy card poster for the recent DVD re-release of the 1978 movie Blank Generation. Each poster yielded four separate covers, so each pamphlet has one of four different covers. Customers are not allowed to specify cover choice, sorry. Every cover is great. Josh Smith hand-created each specially-painted set of "endpapers" (here that means the inside of both the front and the back cover, as well as the page that faces each), so every book is different in that respect. The item is a sculpture as well as a book! It's magnificent, in its disgusting way. Offered here are a few copies from the signed edition, which is limited to twenty-six lettered A-Z, each in a manila slipcase. You can see images and read samples from Disgusting onsite.



ORDER Disgusting signed ed. via: N/A SOLD OUT
---
THE VOIDOID 1973 novelina
(Hove, U.K.: Codex, 1996) 5.875" x 8.25" 79 pp. softcover (only format published) 1st edition signed by Hell [SOLD OUT]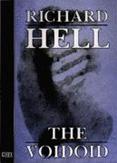 The Voidoid, out of print at the publisher [but you can order the 2009 illustrated edition of the book now], is a delerious, desolate, and real funny piece of short fiction. It's still among Hell's favorites of his writings, and it reeks of its whacked out early '70s NY "barnyard slum" rock & roll/poetry milieu. From his afterword to the edition: "The Voidoid was written in 1973 in a little furnished room on East 10th Street. I was staying with Jennifer ("my thoughts and me are like ships that pass in the night") in her apartment down the block overlooking the graveyard at St. Mark's Church. The Neon Boys was stalled because we couldn't find a second guitar player... Every day I'd take a cheap bottle of wine with me across the street to the $16-a-week room I'd rented for writing. The method was I'd keep going till I got to the end of a single-spaced page, which was pretty far. I'd wake up an hour later and have to drink a lot of water..." ISBN 1-899598-02-8

ORDER The Voidoid via: N/A--SOLD OUT



---
Across the Years Hell selected poems 1970-1991
(Amsterdam: Soyo Publishers, 1991) 5" x 5" 57 pp. hardbound [SOLD OUT]



Across the Years is a selection made by Richard from all the poems he'd written up to the time the book was published. A beautifully designed, cloth-bound little book set in Garamond containing 33 poems in the chronological order of their composition, this is the remainder of the approximately 30 copy overflow from the luxury edition (described below), published in an edition of 500, long out of print. Read excerpts. ISBN 9-072789-04-8

ORDER Years via: N/A--SOLD OUT



---
Across the Years luxury edition Hell selected poems 1970-1991 with audio
(Amsterdam: Soyo Publishers, 1991) 5" x 5" 57 pp. hardbound signed by Hell + cd in wooden box [SOLD OUT]



Across the Years, luxury edition, comprises a copy of the clothbound volume described above, along with a cd of Richard (alone in the Chelsea Hotel) reading aloud every poem in the book, book & cd laid into a hinged wooden box with metal clasp. Though we've seen two copies offered by rare book dealers in the last few years, the book is available at this retail price nowhere else. We have fewer than five copies (depending on how many Richard decides to part with... NOTE: there is now one copy left and when it's sold there will be no more), each signed by the author on the title page (this is not "called for"--there was no signed edition of the printing). You can see the box and its contents full-scale, along with six poems from the book, here. ISBN 9-072789-04-8

ORDER Years [LUX] via: N/A--SOLD OUT



---
WEATHER series of twelve poems
(New York: CUZ Editions, 1998) 5" x 7" 17 pp., stiff dustjacket/wrappers
[Signed by the author and cover artist, edition of 26 lettered A-Z: SOLD OUT.]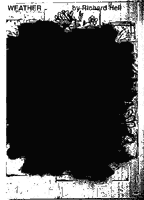 The five hundred copy trade edition of this is long sold out. Used copies of that $5.95 book show up elsewhere on the web for $50 and more. But, unknown to most booksellers, we still have a few copies of the original 26-copy signed edition of this at publication price. Weather is an hilarious and chilling, mind-messing, multi-poem set of variations on, or mutations thereof, one short lyrical text. It's unlikely you've ever read anything like it. The perfect cover art was created for the book by Christopher Wool. Read an excerpt...

order SIGNED edition via: N/A--SOLD OUT



---
Godlike novel by Hell
(New York: Little House on the Bowery [imprint of Akashic], 2005) 5.5" x 8.5" 144 pp. hardbound 1st edition
limited to 26 copies (A-Z), signed by Hell [SOLD OUT]



This is the signed, limited, hardcover edition of Godlike. The paperback is printed on the same acid-free paper but it is "perfect bound," as are almost all paperbacks: the pages are simply glued to the paper binding. With respectful handling the paperback will last decades, but the glue will eventually dry and the pages will fall out. On the other hand, this hardcover edition is handsewn by a fine bindery (Campbell-Logan in Minneapolis), and bound in boards covered in beautiful Japanese bookbinding cloth. With care it will last centuries, or even millennia.The cloth on the boards is a kind of sharkskin blue-beige, and the spine is black shot with brown threading (a larger scan can be seen with the book's reviews and an excerpt). The title on the cover, and the title and author's name on the spine, are pressed into the cloth in silver. Inside, the endpapers are black. The book comes protected by a heavy mylar dust cover. The edition is limited to forty copies: twenty-six lettered A-Z and signed by the author which are available for sale, and fourteen copies numbered 1-14 and signed by the author which are not for sale.

This book is the best piece of work Richard's ever done in any medium. It's a novel that presents a middle-aged poet, Paul Vaughn, recalling in 1997 the intense affair he had in 1971 -- when he was 27 -- with a brilliant 16-year-old boy, "T." (Randall Terence Wode), also a poet. The novel shifts back and forth between the middle-aged writer, temporarily hospitalized for a nervous breakdown, ruminating on his condition while he convalesces, and the novel (Godlike within the novel Godlike) he's writing in order to preserve his memories of the burning, fervent period in the early seventies that he spent with his adolescent boyfriend. There is an excellent, extensive interview with Richard regarding the novel at 3AM literary ezine.

ORDER Godlike [ltd] via: N/A--SOLD OUT



---
The Judas Jesus anthology of writing/drawing by musicians/actors/poets
(Zurich: Black Sheep Press, 1988) 8.25" x 11.75" 184 pp. softcover [SOLD OUT]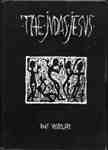 The Judas Jesus is an eccentric anthology, edited by Swiss editor/publisher/writer Rolf Vasellari, that presents 2-5 pages of writing and drawing by each of 51 musicians(mostly)/actors/poets, usually with a large photo or two of each as well. Contributors include Hell (represented by five poems, two prose poems/fiction, a drawing, along with two full page photos of him), Thurston Moore, Jeffrey Lee Pierce, Jello Biafra, Gavin Friday, J.G. Thirwell, Tav Falco, Willem Dafoe, Richard Beymer, Russ Tamblyn, and Jeremy Reed. It's bizarre, for fans only, but the production is excellent. Check a two-page spread. The book's way out of print, but we found a stash, as-new except for slight age-yellowing to edges of the glossy coated paper, and are offering them at half the original publication price.

ORDER JJ via: N/A--SOLD OUT



---